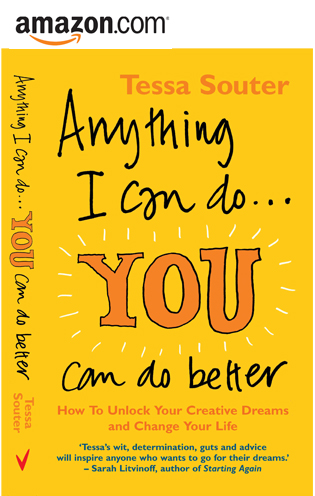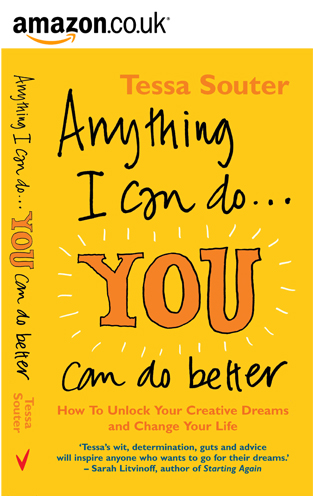 _________________________________________________________________________________________________________
PRAISE FOR ANYTHING I CAN DO YOU CAN DO BETTER
"Tessa Souter is doubly equipped to offer advice on changing your life, because in her long journey from single motherhood at just 16 to internationally acclaimed singer, via cleaning, she has also successfully established herself in two creative careers – journalism and music." YOU (Mail on Sunday) Magazine

"I am lucky enough to have had Tessa Souter as a friend for thirty years.  She is inspirational.  I urge you to read what she has to say." Rene̒e Knight, author of Disclaimer

"As a singer and author, there is nothing Tessa doesn't know about the agony and ecstasy of creativity. This book guides you through all the tricks of the trade with positivity and a sense of humour – and more importantly, a sense of fun." Veronica Henry, novelist

​"Tessa has talent, brains and beauty. But she hasn't had it easy – her determination, guts and advice will inspire anyone." Sarah Litvinoff, author of Starting Over

"Tessa is a gem of a person. Her story will inspire you and teach you." Laura Berman Fortgang, author of 90 Days to a New Life Direction

"Most self help books are a bit irritating but this one is different … Anything I Can Do You Can Do Better is brilliant for creative types losing sight of their big dream. So if you want a kick of inspiration to begin writing that epic love story, while still paying the bills and looking after your family, this is for you." Reveal Magazine

"Inspiring… reading this book is like listening to a very wise friend."  Prima Magazine

"This is absolutely not the standard 'rose-tinted spectacles' personal development book. But she doesn't just tell you how she did it, but also tells how you can do 'it' too – whatever your own personal 'it' is." Mark Forster, author of Do It Tomorrow, The Secrets of Productive People and How To Make Your Dreams Come True.
_________________________________________________________________________________________________________