Scroll down to read mini and 500-word bios, play video, listen to tracks 

Click HERE to download hi res pictures. 

Personal email: tessa@tessasouter.com

Agent: Reggie Marshall at MarsJazz Booking Agency. Email: reggie@marsjazz.com

Tel: +1-434-979-6374
PLAY VIDEO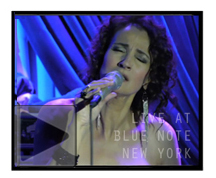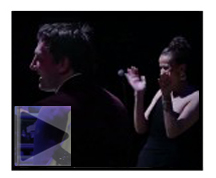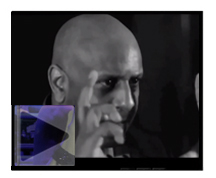 BIO
"Astute and expressive." Nate Chinen, NEW YORK TIMES

"Scintillating, haunting, poetic." Siddhartha Mitter, BOSTON GLOBE

"Stunningly original and utterly compelling."  Peter Quinn, JAZZWISE  

"Shimmers in the dark."  Clive Davis, SUNDAY TIMES (UK)
Short bio
As a jazz vocalist with a sumptuous sound and an unerring ear for fresh and unexpected material, Tessa Souter knows her way around the American Songbook's back pages. But ever since the release of her 2004 debut, Listen Love, the Anglo Trinidadian singer has cast an increasingly wide net, often contributing original lyrics to instrumental jazz standards. On her ravishing 2013 masterpiece Beyond the Blue (Motéma) – a Sunday Times magazine Best Album of the Year – she even set lyrics to beloved themes from the European classical canon. Her next album, Picture in Black and White  (due for release in 2018) is her most personal and universal yet, a riveting musical account of the journey launched by her discovery at age 28 that her birth father was black. It's another revelatory step by an artist on a decidedly unconventional path.
. . . . . . . . . . . . . . . . . . . . . . . . . . . . . . . . . . . . . . . . . . . . . . . . . . . . . . . . . . . . . . . . . . . . . . . . . . . . . . . . . . . . . . .
500-word bio
Born in London of English and Trinidadian parents, New York-based vocalist-songwriter, Tessa Souter, grew up "predisposed to the blend of cultures reflected in her music, which contains Middle Eastern, Brazilian and flamenco elements in an airy jazz framework." (Philadelphia City Paper).  The Downbeat Critics Poll Rising Star "shimmers in the dark" says the London Sunday Times – which placed her album, Beyond the Blue (Venus-Motema), # 6 on the Best Albums of 2013 along with Gregory Porter (# 3) and Stacey Kent (#10).  Heralded by the Los Angeles Times as "one of the few exceptional standouts in the crowded field of female jazz singers," Tessa's "truly beautiful voice" (Sirius Radio) and penchant for exploring music mostly untouched by other singers have set her apart as "one of the finest and most fearless vocalists to have emerged in recent years." (Boston Globe).
"Broadly imaginative" (New York Times). "Expressive . . . full of passion" (Philadelphia Inquirer), NEA Jazz Master Sheila Jordan puts her "at the top of my list of great talent. She really moves me." As Ms. Jordan told the Boston Globe: "She's a very giving person. And that's what she does with her music. She gives it." Tessa earned a scholarship to Manhattan School of Music, but dropped out after one semester, preferring to hone her craft in a mentorship with the inimitable vocalist Mark Murphy, who offered her free lessons in return for help booking his masterclasses. "Of course I said yes. I studied with him for four fantastic years, followed by many more as a close friend and mentor."
Tessa has since performed all over the world, including Dizzy's Club Coca Cola, Mezzrow, the Blue Note, Jazz Standard and Joe's Pub, New York;  Pizza Express, Ronnie Scott's and the Edinburgh Jazz Festival, UK; Blue Brass, Palermo, Italy; Dr Gab's, Geneva, Switzerland; four sold out tours of the Russian philharmonic halls; and six appearances at the Xerox Rochester International Jazz Festival, where, in 2015, she was chosen from over 1,000 festival performers to be one of four filmed by PBS Television. Her 2017 appearance was picked by the Rochester Democrat & Chronicle as the "one show overall not to miss."  Her invariably standing-room-only monthly residency at Greenwich Village's iconic 55 Bar is in its 14th year.
Tessa has performed and recorded with Steve Kuhn, Alan Broadbent, Kenny Werner, Yotam Silberstein, David Gilmore, Marvin Sewell, Yasushi Nakamura, Billy Drummond, Dana Leong, Lew Soloff, Romero Lubambo, Alec Dankworth, Nikki Iles, Jim Hart, Lynne Arriale and Howard Johnson. She has made four critically-acclaimed CDs (including two for the multi-Grammy-nominated Motéma label).  She is currently working on her upcoming release, Picture in Black and White – a tribute to the ancestors of her mixed-race heritage.
Whether performing in philharmonic halls or in the intimacy of a small jazz club, "Tessa Souter is a beguiling artist who infuses everything she interprets with voluptuous intelligence and keen emotional insight." (KQED Arts). "Best of all, she delivers it with a wit and a wink worthy of the toniest joints in town." (Time Out New York)
LISTEN TO TRACKS
Eleanor Rigby Obsession (Motéma, 2009) – John Lennon/Paul McCartney
Nara's Song/Little Sunflower  Obsession (Motéma, 2009) – Freddie Hubbard/Tessa Souter
Moon and Sand Nights of Key Largo (Venus, 2008) – Alec Wilder
The Island Nights of Key Largo (Venus, 2008) – Ivan Lins/Marilyn and Alan Bergman
Chiaroscuro Beyond the Blue (Venus-Motéma, 2013) – Tomaso Albinoni/Tessa Souter
LIVE REVIEWS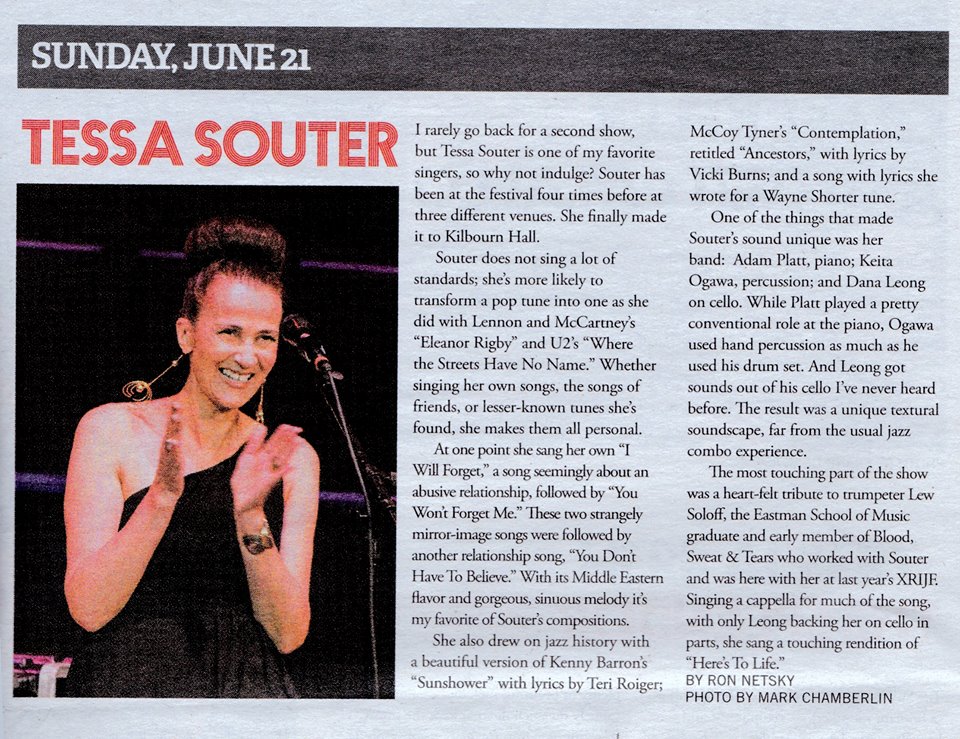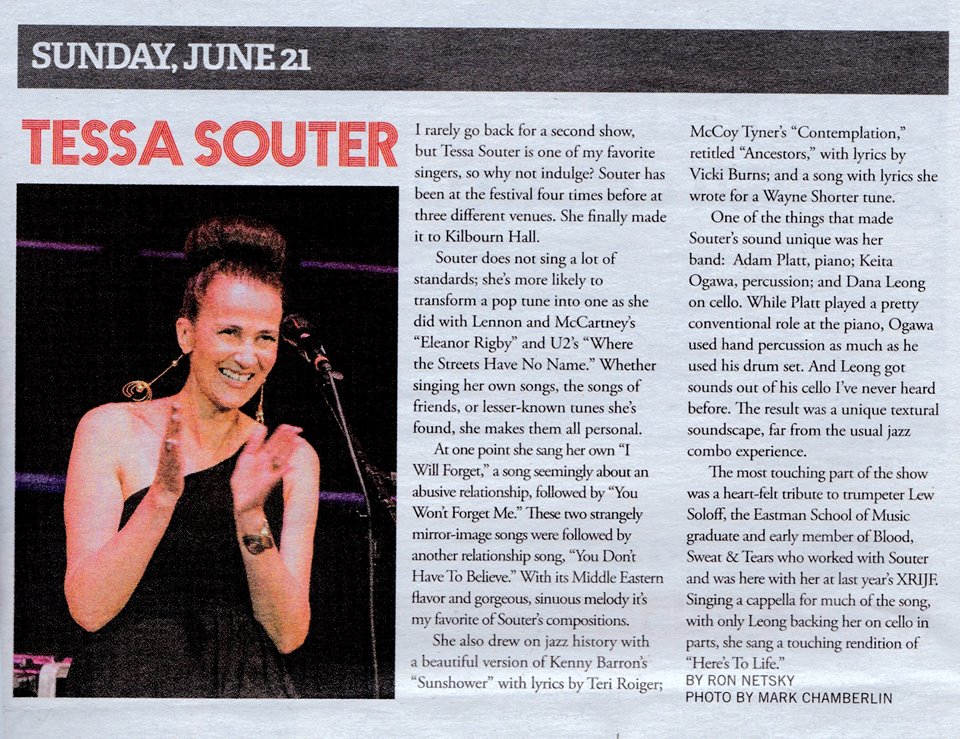 More live reviews HERE