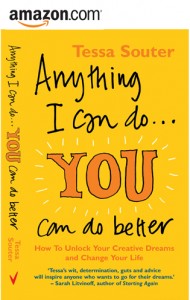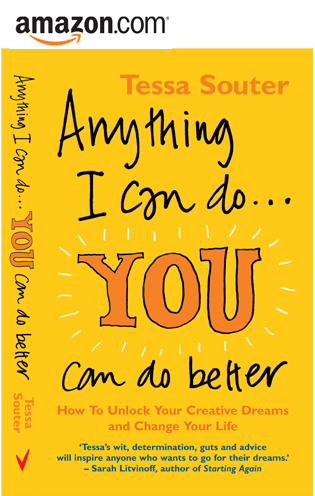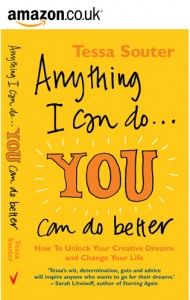 A girlfriend suggested I write this book and I mentioned it in passing to an agent who said "Tessa, if you write that book, I will agent it!" Next thing we knew, Random House-Vermilion Press wanted it! Yikes! So I did!
It wasn't easy to write – that was one of my hardest years ever in terms of the rest of my life! – but there were times when I felt I was channeling the words. In fact, when I have fallen off the confidence wagon (which is often) I have many times been counseled by friends, "There's this really great book you should read! It's called Anything I Can Do You Can Do Better!" And there are things in this book that I haven't found anywhere else. It deals with money, relationships, artistic process, how to get started, how to keep going, agents and managers, family, and more. There's even an entire chapter on jealousy.
I tapped the minds of many successful and struggling artists for their best advice so that you needn't make the same mistakes. Some of my very best friends, who give away their secrets within its pages, have "made it" since the book was published (may we all be so fortunate!): Graham McTavish, who some of you may now know as Dougal in the Starz Channel TV series Outlander and the Saint of Killers in Preacher;  Renee Knight, best-selling author of twisty-turny Disclaimer and The Secretary, multi award-winning author, the late, Mal Peet, best selling author and historian Alex Kershaw and best-selling romance novelist  Veronica Henry whose books are like getting into bed with a hot toddy and a fluffy hot water bottle when it's cold and wet outside. I hope you find it useful.
TESTIMONIALS
"Tessa Souter is doubly equipped to offer advice on changing your life, because in her long journey from single motherhood at just 16 to internationally acclaimed singer, via cleaning, she has also successfully established herself in two creative careers – journalism and music." YOU (MAIL ON SUNDAY MAGAZINE}

"I am lucky enough to have had Tessa Souter as a friend for 30 years.  She is inspirational.  I urge you to read what she has to say." Rene̒e Knight, author of Disclaimer
"As a singer and author, there is nothing Tessa doesn't know about the agony and ecstasy of creativity. This book guides you through all the tricks of the trade with positivity and a sense of humour – and more importantly, a sense of fun." Veronica Henry, novelist
​"Tessa has talent, brains and beauty. But she hasn't had it easy – her determination, guts and advice will inspire anyone." Sarah Litvinoff, author of Starting Over
"Tessa is a gem of a person. Her story will inspire you and teach you." Laura Berman Fortgang, author of 90 Days to a New Life Direction
"Most self help books are a bit irritating but this one is different … Anything I Can Do You Can Do Better is brilliant for creative types losing sight of their big dream. So if you want a kick of inspiration to begin writing that epic love story, while still paying the bills and looking after your family, this is for you." REVEAL MAGAZINE

"Inspiring… reading this book is like listening to a very wise friend." PRIMA MAGAZINE

"This is absolutely not the standard 'rose-tinted spectacles' personal development book. But she doesn't just tell you how she did it, but also tells how you can do 'it' too – whatever your own personal 'it' is." Mark Forster, author of Do It Tomorrow, The Secrets of Productive People and How To Make Your Dreams Come True.
"Part memoir, all inspiration." Suzanne Lorga, AllABOUT JAZZ